Uniform Study: Thoughts on Red Tait Jackets.
by Christopher Daley
While most reenactors associate red trim with the artillery branch of service, evidence suggests the Confederate QM often didn't concern itself with such distinctions.
There are two extant Peter Tait jackets with red trim. First, and best know, is the jacket of Private B.S. Pendelton. (Pictured to the right) Pendleton served in the 2nd Virginia Infantry of the Stonewall Brigade and also as a courier to Gen. Thomas J. "Stonewall" Jackson up until the general's death in May of 1863. This jacket survives as it was the garment worn home from Appomattox by Private Pendleton. A second red-trimmed jacket with provenance to ANV infantry resides in a private collection in Virginia. Additional details were unavailable at the time of this writing.
Perhaps the most compelling piece if evidence for infantry-use of red-trimmed Tait jackets is Thomas Roche's photograph of a dead Confederate soldier taken in the field at Fort Mahone, Petersburg, Va. on April 3, 1865. (Pictured below) Roche's label for this image describes the jacket as being gray with red trim. In examining this photo, we can see this unfortunate Confederate is clearly wearing infantry accoutrements with his red-faced Tait jacket. Les Jensen, who analyzed this image in great detail states, "It has the correct button count, the distinctive double line of stitching, and under a glass it can be seen that the collar and shoulder straps are of a finer material than the rest of the jacket."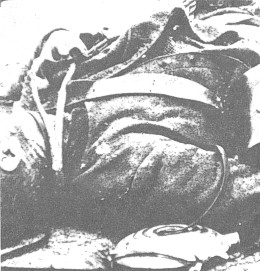 As a side note, this image is part of a series of three taken by Roche. Interestingly, in one image, the photographer inserted an artillerist's sponge-rammer but removed it for the remaining two images. As we all know, Civil War battlefield photographers often added additional gear to images of the fallen and it is interesting that, in this case, a prop was added and then removed. One might conclude the photographer added the prop, determined the deceased to be an infantryman, and removed the prop for subsequent images.
In addition to supplying the Confederacy, the Peter Tait was also a contractor for the British military. It is interesting to note that the official branch of service color for the British infantry was red. This raises the possibility that the Tait company produced a number of "infantry jackets" for the CS army in British branch of service colors. Personally, my suspicion is that Tait simply produced jackets with both blue and red trim variation and the CS QM issued them indiscriminately. Whatever the case, it is clear that red-trimmed Peter Tait jackets were in use by the CS infantry serving alongside their blue-trimmed brethren. (Of course, such jackets would also be perfectly appropriate for Confederate artillerists, too!)